These fun&enjoyable art workshops, birthday parties and business events, for all levels of ability, will develop skills, confidence and team building, using imagination and self-expression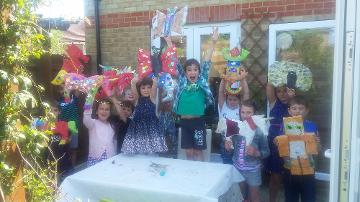 School Holiday Workshops, Birthday Parties and After School ArtClub
Creative You's after school artclub and school holiday art workshops will allow your child to express their creativity and build their confidence. Using mixed media they choose the artistic journey they want to take. Each session offers a new art activity were they will have fun experimenting, learning and creating. For children aged from 4 - 12 years of age and great for all abilities.£7 per child. Please book to ensure your child's place.
2019
Half term Children's art and craft workshop
*Donation based workshop*
Suitable for 3 – 13 years
Monday 28th October 2.30pm – 4.30pm
Please see our Dates and Times for more information
Children's art birthday parties
Want to hold a children's birthday party that's a bit different? Why not book a bespoke art party. These fun and creative parties will enable your child to express their creativity and inner artist. Through using ready-made papier-mâché animals and creatures, ready to be decorated, the children will be able to express and release their own imagination. All children get to pick which template they would like and take home their creations at the end of the party. Look at our gallery to view the templates available (superheroes, dragons, seahorses, cats, dogs, peacocks, lizards and many more). Materials and equipment are provided on the day and you can bring your own birthday cake and decorations if you wish. Everyone leaves happy, the children have a great time and they have a memento of the fun time they had.
After School Art Club
Every Wednesday from 3.30pm - 5.30pm
At each session we will be experimenting and having fun with a different art forms as well as working on different art projects.
For children aged 5 to 12 years, with a maximum of 12 children.
£10 per session Try it first 'taster' session £7
We also hold events/parties for adults and children. Our workshops take place in Brighton but we are happy to come to you.
Children's Worry Doll Workshops
During the workshop we introduce and explain the origins and meaning of the dolls, that they help deal with a worry, and that by putting problems into words, it can blunt their emotional impact.
Merging the traditional way of making worry dolls, using bits of materials and creating faces (eyes and mouths can either be painted, drawn or sown on) as well as a very simple technique (where no sowing is required), it is suitable for all abilities.
At the end of the workshop your child will have created at least one worry doll which they take home with them, and know how to create more if needed.
These Brighton workshops are 2 hours long, for 7 - 13 year olds and only cost £6.50 if you like our Facebook page.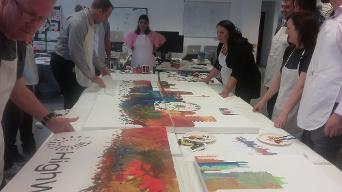 Networking and teambuilding events, parties and art workshops
2019: Adult Art Workshops
Please see our Dates and Times
for more information
Creative You offers bespoke, unique, memorable and enjoyable art workshops, parties and events for external client organisations and the general public. These events are suitable for all abilities and can be held at our venue or yours.
Creative You art workshops, parties and events are ideal for wellbeing, networking, meeting new people and team building as they naturally encourage communication and creativity.
Teams and organisations wellbeing stems from the individuals within them. Everyone needs to have their own individual sense of vitality, to be given the opportunity to undertake activities which are meaningful, engaging, and which make them feel competent and autonomous. Creative You provides the 'space' and time to develop each individual's own inner resources to help them cope when things go wrong and be resilient to changes beyond their immediate control.
It is also crucial that people feel a sense of relatedness to other people, so that in addition to the personal, internally focused elements, people's social experiences – the degree to which they have supportive relationships and a sense of connection with others – form a vital aspect of well-being.
* Teambuilding art event: the team work on one big painting/mural on 4 or 6 canvases with your company logo included
*Wine glass painting: Have a glass of wine or two and paint one with your clients, colleagues or friends
*Create your own mandala on canvas: Great for all abilities and for teams and individuals
* Create your own cubist 'Picasso' portrait on canvas
Create your own mandala on Canvas Workshop
This is a great opportunity to meet new people, have fun, get creative and take home your creation at the end of the night. We provide everything, including a glass of wine, tea, coffee or soft drink! You can either create your own mandala on canvas (£10) or work on your own idea/project (£7). We will take you step by step how to create your own original mandala on canvas. All equipment and materials are included: canvases, acrylic paints, brushes etc. Please view our Dates and Times page for more information. To book onto this or create your own event please contact us.
Collagraphy workshop
Collagraphy combines creating a mixed media collage and printmaking and it's great fun! All art materials are provided. £7 per session. To book onto this event please contact us.
All events can be tailored to your needs, cater for all abilities/ages and can be held at your venue or ours. These bespoke events will enable individuals, teams, clients, and friends to go on a creative journey, using a selection of different materials. All art materials and equipment are provided on the day. Please contact us for more information and to discuss your needs.
Adults Painting and Mixed Media Workshops
Through the use of acrylic painting you will access and progress your confidence and abilities and have a choice of being inspired by an image/painting that you connect with or creating your own masterpiece. The workshop will encourage you to express what you feel/see and define your own style whilst working towards your own goals and aims. All materials and equipment are provided on the day. Great for all abilities.
This workshop will enable you to go on a creative journey, using a selection of different materials to express your imagination and observation. All materials and equipment are provided on the day. Great for all abilities and only £7.00 per adult.